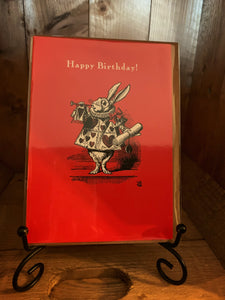 Part of a bright and bold collection of greetings cards celebrating John Tenniel's original woodcut illustrations for Alice's Adventures in Wonderland by Lewis Carroll.
This design features a red coloured background with a black and white image of the White Rabbit wearing a herald tabard covered in red hearts as he sounds the horn to read his announcement. Across the top of the card is the message 'Happy Birthday!'
Notes for Mortals:
The card is blank inside and is printed in England with a high-quality finish.
The card is FSC approved, complete with logo and certification and is supplied with a kraft envelope. 
Dimensions: 170 x 119 millimetres.
Published by Hype Associates Ltd.