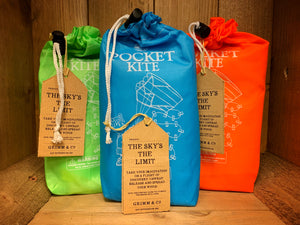 Blue sky dreaming? The sky's the limit! 

Let your imagination take flight and your creativity soar with this pocket kite. 
Suitably bright in bold colours to catch the eye, your ideas will be head and shoulders above the rest once you unravel your thoughts and dream sky high!
Best suited for: A breeze that will blow away the cobwebs.
Note for Mortals:
A portable kite in red, green, yellow and blue stored in a brightly coloured pull-string bag supplied at random in the colours green, blue, and orange.
Kite measures approximately 49 x 57 cm when flat, with over 2m long tail.
Packed bag measures approximately 23 x 12 x 6 cm.
Important information: 
Do not use near overhead power lines or during thunderstorms. Do not fly within 5 miles of an airport. Only use in open areas.
Use well away from traffic and other hazards.
Contains a long cord which could present a strangulation hazard.
Not suitable for children under 3 years of age as small parts may present a choking hazard.