Spells need re-stocking?
If you've got potions to make, or spells to break, we've got exactly what you need.
Stockists of traditional & unconventional remedies, curses, hexes, tonics, potions, cures, spells & elixirs. 
We believe we are quite possibly the greatest, and most renowned supplier purveying quality goods and services to magical beings, from the wicked to the sickeningly virtuous (we don't discriminate).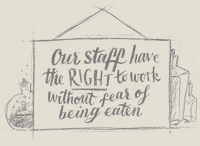 Grimm & Co. is a registered charity: Charity No: 1154990. Registered Company No: 8765731. All proceeds from our magical apothecary support our free creative writing workshops for children and young people.
Testimonials
I'll always try and support you when I'm able. I've received my parcel, and I can't wait to give most of the items out as gifts in due course.

Vikki
This is the second time I've ordered from you and I have been DELIGHTED on each occasion. Your products are pleasingly quirky, of good quality and reasonably priced. Combined with the whole ethos of the company it makes for a winning combination.

Pam
Just received my package of potions and wanted to say how great they all are. Even they way you package them up makes the whole process such a lovely and magical experience. 

Andrew
I just wanted to send my greetings and thank you and the other elves for choosing the items so wisely for me; it's almost as if you knew what I wanted! I was most impressed with the speed of your delivery owls, so perhaps you could convey my thanks to them also? Thank you once again for a truly magical experience...

Alix
Thanks for the very quick delivery on my last minute gift idea! Also thanks for the tree decoration and the letter - you go the extra mile to make even the parcels you send out seem magical! So glad I bought from you and not some soulless corporation - keep up the good work you do
A zillion thanks to the inspiring Grimm & Co for my beautifully packaged order. So excited. The care and attention is lovely. Let's see what magic lies inside...

Wendy
We are looking forward to exploring the parcel. My family and I visited your travelling fellows at Wentworth Woodhouse on Wednesday. This was our first encounter with your delightful company...We purchased quills, magic beans and a much needed Condensed Enthusiasm potion to give us buoyancy once terms starts (we are all in education of some kind). 

Zoë and family
Have I mentioned in the last 5 minutes how much I love Grimm & Co? ... My pay day game has arrived in time for the weekend and other bits and pieces promptly dispatched by the shop elves.

Fiona