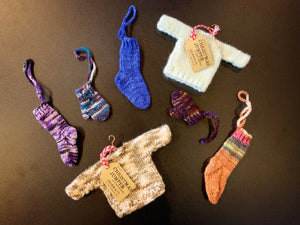 In the colder seasons, even the tiniest of magical beings need some warm, knitted clothes.
Choose from a selection of jumpers, stockings, and mittens, all perfectly sized for fairies and elves. 
Jumpers also come wardrobe ready with a free hanger!
Notes for Mortals:
A doll-sized, hand-knitted tree decoration in the shape of either a jumper, a stocking, or a mitten.
Only one item supplied per purchase - stockings and mittens will not come in pairs.
Colours and patterns will be chosen at random.
Measurements (size may vary slightly)
Mittens (approx.): 5.5 cm x 3.5 cm
Stockings (approx.):  10cm x 3/4 cm
Jumpers (approx.): 8cm x 6.5 cm. Arm length is around 14 cm. 
Hanging Length (approx.):  mittens and stockings - 8 cm. Jumpers: 8 cm or 1 cm (if you use the hanger).