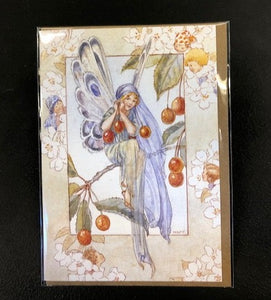 Part of a fairy tale-style collection of greetings cards celebrating the whimsical original illustrations by Margaret Tarrant.
This design features a watercolour style illustration in full-colour with a fairy sat on a cherry tree branch holding some cherries with cherry blossom flowers around a border with five hiding fairies.
Notes for Mortals:
The card is blank inside and is printed in England with a high-quality finish.
The card is FSC approved, complete with logo and certification and is supplied with a kraft envelope. 
Dimensions: 170 x 119 millimetres.
Published by Hype Associates Ltd.