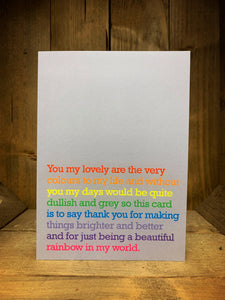 This is the ultimate sunny sentiment card to send to whoever adds colour to your world and brings out the rainbows in the rain.
I love 'just because' cards, for that reason of sending a smile to someone's face when they're not expecting it. I also absolutely love rainbows so I wanted to do something which combined the two.
This is a perfect card for sisters (I sent one to mine and she loved it), parents, grandparents, friends, teachers, children – the list is endless!
It's so nice to receive things through the letter box that aren't bills and flyers so go on – step away from the text and send someone you love some pretty post today.
Notes for Mortals:
The card is blank inside and is printed in the UK with a high-quality matt finish. 
The card is FSC approved, complete with logo and certification and is supplied with a white envelope. 
Dimensions: 5 x 7 inches.
Designed by Lindsay Randall - The Right Lines Cards