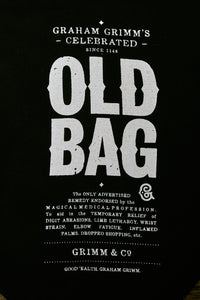 Made from the woven whiskers of the bitterest of swamp hags, the Old Bag is ideal for carrying those small but awkward loads. Possible uses include the carrying of bottomless wine bottles and other magical potions, the smuggling of elves (providing the elves are willing), or the transportation of dragon eggs. New larger style available suitable for carrying spell books and even fatter elves.
Notes for mortals:
Black cotton tote bag with screen printed design. Large style has reinforced handles. 
Dimensions
Large - 37cm x 42cm. Handle drop = 28cm.