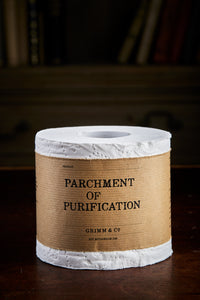 Suffering the after-effects of a cursed ring? Get instant relief with Grimm & Co's patented Parchment of Purification. Tough on pus, slime and mucus of all varieties - even goblin mucus - yet soft and gentle enough for sensitive skin & scales. Now extra absorbant to clear up the messiest potion spillages with ease.
Notes for mortals:
Individual triple-layer toilet roll. 260 sheets per roll.
Please note: some customers have experienced excessive cleanliness and a liking for toilet humour after using this product.