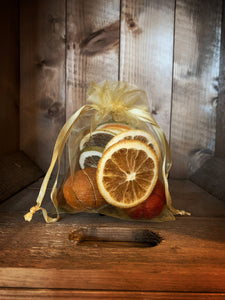 When your home could use a warm and decorative pick-me-up in the deep and dark winter months, this little bag will scent a room with festive cheer.
This golden organza bag is filled with dried fruits which are beautifully scented with an oil. Perfectly capturing the orange and cinnamon scents of the festive season, they conjure up images of roaring fires, snowy scenes, decorated trees and the warmth of a travel cauldron/mug in your hands.

These bags can be topped up with their spiced fragrance using the Christmas in a Bottle oil, exactly what you need to keep them fresh year after year.  
Notes for Mortals:
Small gold-coloured organza bag filled with a selection of dried fruits scented with orange, cinnamon, clove and a blend of other spices to enhance the smells of the winter festive season.
Drawstring loops ideal for hanging, especially near a heater to bring out the fragrance
Size: 13cm x 16cm
Not suitable for consumption. Keep out of reach of children.